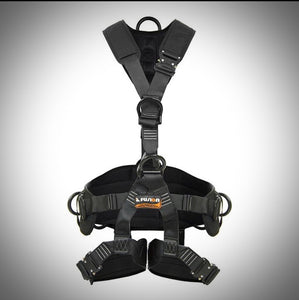 Why Fusion Climb Harnesses?
Here at Concert Shop, we're often asked why we chose Fusion Climb harnesses to offer in our shop. The answer is simple: they're the best on the market and offer the most competitive pricing out there.
Fusion Climb harnesses are made with high-quality materials and construction, and they're designed to provide maximum comfort and safety. They're also incredibly adjustable, so you can find the perfect fit for your body.
But what really sets Fusion Climb harnesses apart is their versatility. They're ideal for a wide range of activities, including working at height, rigging, and climbing.
If you're looking for a top-quality harness that can keep you safe in any situation, Fusion Climb is the way to go.
Here are some of the reasons why Fusion Climb harnesses are ideal for working at height:
They're made with high-strength materials that can withstand the rigors of everyday use.
They're designed to distribute the force of a fall evenly across your body, which helps to prevent serious injury.
They come with a variety of features that make them easy to use and adjust.
They're available in a variety of sizes to fit different body types.
Here are some of the reasons why Fusion Climb harnesses are ideal for riggers in the entertainment industry:
They're comfortable to wear for long periods of time.
They're adjustable to ensure a perfect fit.
They come with a variety of attachment points, so you can connect your lanyards and other safety gear in a variety of ways.
They have a built-in belay loop, which is great for belaying other riggers or for attaching yourself to a fixed point.
If you're looking for a top-quality harness that can keep you safe in any situation, Fusion Climb is the way to go. You can view our Fusion Climb harness offerings here:
---