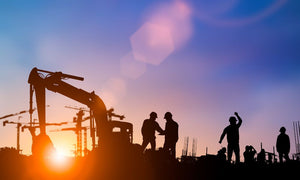 Which Tools Should You Always Bring to a Jobsite?
To do your job productively and safely, you must rely on a variety of tools and workwear. However, the items you need to bring to work can vary from day to day based on the project you're currently working on.
If you're wondering which tools you should always bring to a jobsite, consider this list of items you should never leave at home.
Personal Protective Equipment (PPE)
This is arguably the most crucial thing you should bring—or wear—to the jobsite. Personal protective equipment, or PPE, is a term that refers to any type of protective clothing or gear worn on a jobsite. While the type of gear you need to wear varies from job to job, the following items are some of the essentials.
Head Protection
As far as body parts go, your head is relatively strong, but that doesn't mean it's impervious to harm. A well-placed hit or shock to the skull can do real, lasting damage. For this reason, you should always wear a hard hat in areas where falling or flying objects and electrical shocks are possible.
Foot Protection
Never wear open-toed shoes, like sandals, to the jobsite. If you're working in construction, sturdy, steel-toed or safety-toed leather boots are best. They'll protect your feet from being crushed or punctured, and from experiencing electrical shocks. If working as a stagehand, wear a nice pair of black, closed-toe canvas shoes unless advised otherwise.
Hand Protection
Most jobs require the use of hands, which makes them crucial parts of the body to protect. There are various types of gloves you can slip on to shield your hands from harm; for example, insulated gloves are necessary when working with or around electricity, while heavy-duty leather gloves will prevent stinging cuts and searing burns.
Face Protection
When working around dust, chemicals, or falling or flying objects, you'll need to wear a face shield or protective goggles to guard your eyes, nose, and lungs.
Hearing Protection
Heavy equipment can produce a cacophony of noise, which can injure your eardrums. Protect your hearing by wearing pre-molded ear plugs or foam-lined ear muffs over both ears.
Pants and Shirts
Your shirt should cover the entirety of your arms, and your pants the entirety of your legs. Choose garments made from thick but breathable materials, like canvas or denim, for maximum safety and mobility.
Hi-Vis Workwear
Hi-vis workwear makes you more visible to others so they don't accidentally point dangerous tools at you or drive heavy machinery in your direction. You should always wear hi-vis gear when working in low-light conditions or along active roads.
A First Aid Kit
By being vigilant and alert, you can avoid most common jobsite incidents. But not all hazards are easy to spot or prevent, and should an accident occur, you want to be prepared. A first aid kit can save lives in the event of an accident; you can use the assorted medical tools of a proper kit to dull pain, stop bleeding, clean wounds, and more. According to the American Red Cross, your jobsite first aid kit should contain the following:
Adhesive bandages
Adhesive cloth tape
An instruction manual outlining care for various injuries
Antibiotic ointment
Antiseptic wipes
Aspirin
Breathing barrier
Compress dressings
Emergency blanket
Gauze pads
Hydrocortisone ointment
Non-latex gloves
Thermometer
Tweezers
A Multi-Tool
These tiny tools hold a lot of power. Whether you need to cut, pry, or hammer, a multi-tool can do it all. Multi-tools are convenient because they combine multiple tools in one, so you don't need to carry a whole arsenal of bulky items. This piece of equipment will save you money, time, and space in your backpack, gig bag or toolbox.
A Flashlight
If you're working in the evening hours or need to navigate cramped, dimly lit nooks and crannies, (such as under the stage) a flashlight is an essential tool to carry with you. You'll want a compact flashlight you can easily attach to your bag, clip on your belt or put in a holster. Your flashlight should be durable and have decent impact resistance so it doesn't break if you accidentally drop it. You'll also need it to produce enough light that you can see a good distance in front of you. For construction or stagehand work, we recommend a flashlight with at least 700 lumens.
Flashlight Batteries or Charger
When your flashlight runs low on power, you'll want to have a way to recharge it. There are two kinds of flashlights: rechargeable and non-rechargeable. Rechargeable flashlights tend to be more powerful and longer lasting than their non-rechargeable counterparts, but recharging them is a waiting game. You will need to connect them to a charger and wait for them to fully charge, which takes two to two and a half hours, on average. Non-rechargeable flashlights may not shine as bright or last as long, but they have an edge when it comes to convenience. If these flashlights die, just pop in new batteries and you can get back to work immediately. Many flashlights can accept rechargeable batteries. So you could also get the best of both worlds.
Pen and Paper
A pen and paper are two simple yet essential tools you should always bring to a jobsite. A small notebook and pen allow you to jot down notes so you don't forget them. Whether you need to write down measurements, equipment operating instructions, or a reminder of when to take lunch, this classic duo will come in handy.
A Backpack
You could stash your tools in your car and run to get them when you need them, but this can eat up a lot of your time. Instead, why not store your work gear in a trusty, easy-to-carry backpack? With a durable, roomy backpack, you can haul everything you need for the day on your back. If you need to grab something, just roll down the zipper and reach in. You're already getting your daily cardio in by working; no need to go overboard and unnecessarily strain yourself by dashing all over the jobsite.
At Concert Shop, we have all the essential gear needed for the jobsite. We carry a variety of high-quality, reasonably priced jobsite safety supplies for construction workers, stagehands, and other professional contractors, including PPE, first aid kits, multi-tools, flashlights, and more. Find what you need to get through your workday with Concert Shop.
---