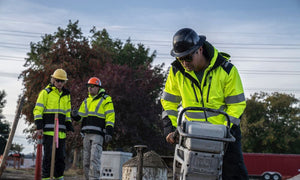 Features To Look For in a Heavy-Duty Work Jacket
Work jackets aren't just stylish fashion statements—they're essential pieces of PPE that can protect you from jobsite hazards. If you need a new work jacket for your construction wardrobe but aren't sure what to look for, here are five features your heavy-duty work jacket should have.
Regulation Compliant
Depending on the kind of contracting work you do, you may be required to wear jackets with certain features. For example, road workers need to wear ANSI-rated high-visibility jackets to make them easily visible to drivers. Contractors in Hazardous Zones need flame-resistant jackets in case a fire sparks. Before buying a jacket, check for specific regulations on what you have to wear at your place of work. The last thing you want is to get hurt or fired due to noncompliance.
Durability
Another feature to look for in a heavy-duty work jacket is durability. You need a dependable jacket that protects your body from the elements, abrasions, and other hazards. The material—and the thickness of that material—determines a jacket's durability. Most construction workers prefer jackets made from cotton duck, canvas, nylon, or polyester because these materials are thick, breathable, wind- and waterproof, resistant to ripping and tearing, and easy to clean.
Weight
The more durable your jacket, the heavier it is. Your jacket should be bulky enough to provide adequate protection, but you don't want it to be so heavy that it's uncomfortable or limits your mobility.
Size
The ideal jacket size will vary from person to person. You likely know your perfect jacket size. If not, measure the widest part of your chest and around the back, across the shoulders, and beneath the arms to determine the best size. A heavy-duty work jacket should fit snugly and securely. It shouldn't hang loosely off your body and shouldn't constrict you to the point of limiting movement.
Weather Resistance
If you work outdoors, you need a jacket that can hold up against whatever Mother Nature throws at you. Ideally, your heavy-duty jacket is wind- and waterproof. It should have a hood you can put up to protect your head from the cold, rain, snow, and hail. Your jacket needs to be insulated with down, synthetic, or polyester fabric to fend off frostbite and hypothermia on cold, windy days. It should also be breathable so you don't overheat while working.
Your new work jacket needs to check multiple boxes. It needs to be comfortable, insulated, breathable, and protective. Fortunately, Concert Shop makes finding high-quality, multifaceted work safety jackets easy. We carry a variety of Blaklader-brand jackets—including hi-vis and fire-rated options—in assorted colors, sizes, and materials. Browse today to find your ideal fit!
---